You deserve honest skincare for life.
Ingredients with purpose.
Decluttering is not just for closets. We use only the finest, most powerful actives and no fillers, ever.
Potent, safe, and proven.
Our formulas are powered by nature and backed by science. We guarantee they'll do what they promise.
Goodness, through and through.
Every Kate Ryan product is made to be good to you. Always free of dyes, artificial fragrances, and harmful chemicals. And 100% cruelty-free.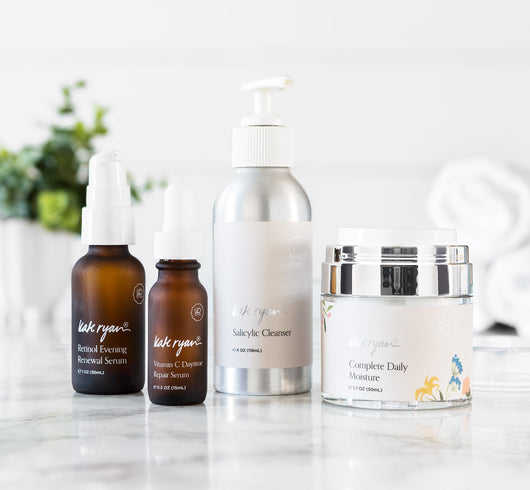 Word of our results gets around...

"Another 5 stars for Kate Ryan! The Complete Daily Moisture has been perfect for my skin. I usually don't wear moisturizer in the summer as my skin seems to be more oily, but this is a must! My skin was perfectly moisturized all summer. It never felt oily and I actually had less breakouts than I normally do during the humid summer months. My make-up goes on smoothly, and I truly feel my complexion keeps improving with each new product I try from KRS."
Angie I.

"LOVE the Vitamin C Daytime Repair Serum. I'm about as simple as it comes when it comes to skin care and my friend recommended this product. I use it under my moisturizer and love it. It's the middle of winter right now and my skin has a nice, healthy glow to it vs the pale dry skin I'm used to in the winter. I highly recommend this as it is very affordable and you see results quickly!"
Anna C.
Must have products, chosen by you.
From Our Skincare Blog
Get honest skincare tips from the Kate Ryan Skincare team.